We sell taste… One bite at a time!
Welcome to Jerome Country Market! 
Jerome Country Market has been producing quality meat products, including our award winning jerky, since 1987. We take great care and pride in the production of all our meat products, including a variety of jerky and snack sticks that have been created by Bret's recipes and secret ingredients!
We have a state of the art facility with stainless steel equipment that exceeds all USDA requirements. Once your animal is harvested and processed all your cuts will be vacuum sealed, labeled, put in paper grocery bags and sent to the freezer to await your pickup.
Home of Michigan's Largest Buck Pole!
For over a decade, Jerome Country Market has been home to Michigan's largest buck pole. Our buck pole runs for two days every year, November 15 & 16th. Kicking off at 8 a.m., we welcome Michigan's biggest bucks. On the final night we raffle off over $25,000 worth of giveaways, including off-road vehicles, hunting gear and lots more.  
We take pride in what we do. For the past 30 years we have stayed true to two things, family and quality. We have spent tireless hours perfecting our recipes and processes. Jerome Country Market always strives to be the best, and our hard work has paid off countless times. With over 100 National & State awards, Jerome Country Market as been recognized locally,regionally and nationwide for our meats.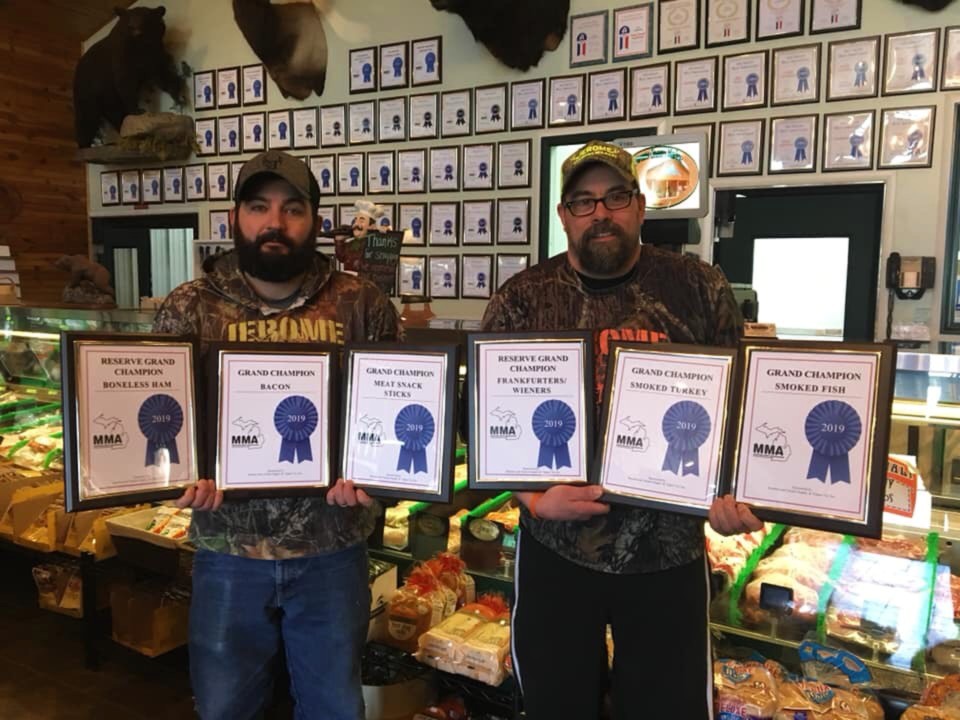 Today I purchased the best tri-tip I have ever had. We got the fresh garlic pepper tri-tip and brought it home and smoked it…wow. Also got two marinated chicken breast that were also fresh and juicy when smoked/grilled. I like the way all the meat is cut and vacuum packed. The assortment of flavors of sausages is excellent also. Well worth the drive from Ann Arbor.
This place is a great find! We just moved into the area and we're looking for a good butcher shop. Jerome's Country Market exceeded out expectations. The staff is so welcoming and helpful and the selection of items you can select from was fantastic! We went with a porterhouse and a ribeye which were better than you can get at most steak houses! There best thing is that if they are really busy you can count on a regular customer to help you out. My only regret is not taking pictures! But no worries we will be back and the pictures will follow! Thanks JCM!
Very nice convenient store. I was very impressed with the layout of the store and the selections. They have a little of everything and a great selection of meats. Their packaged beef steak are good and there is a lot of selection. If your are traveling on US 12 or Chicago road near Moscow, Mi you really should stop and check this store out.
Our mission is to give our customers the highest quality processing possible matched with exceptional service from pen to plate.
We are members of the Michigan Meat Association, American Meat Association of Meat Producers, National Cattlemen's Association, Hillsdale Chamber of Commerce, and Michigan Chamber of Commerce. We are proud sponsors of our community as well as multiple county 4-H groups. We also partner closely with MSU and Meat Science.